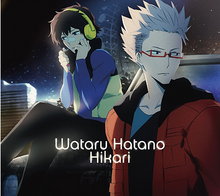 Hikari is the ending theme of Hamatora: The Animation. It is sung by Wataru Hatano.
As with FLAT, the animation sequence differs slightly from the first episode to the others. However, the only changes in Hikari are the backgrounds in some shots. In the first episode, many of the backgrounds are covered in English words which cycle through the colours of the rainbow, and they potentially give some clues about the series.
An unplugged version of the song appeared at the end of episode 7.
Characters in Order of Appearance
*If more than one character appears at once, characters are listed from left to right.
Ad blocker interference detected!
Wikia is a free-to-use site that makes money from advertising. We have a modified experience for viewers using ad blockers

Wikia is not accessible if you've made further modifications. Remove the custom ad blocker rule(s) and the page will load as expected.